Use Splunk's Predictive Monitoring Capabilities
for Mission Critical Business Services.
Webinar: Predictive Monitoring Capabilities for Critical Services
9-Sep-2019
Agenda:
During this webinar we will cover Splunk IT Service Intelligence which is a machine learning-powered monitoring, analytics & investigation capability that gives IT teams a way to quickly and easily detect emerging problems and simplify or automate incident investigation and workflows across all data sources.
Splunk IT Service Intelligence (ITSI) is a next-generation monitoring, analytics & investigation solution which brings organizations a revolutionary new approach to IT monitoring.
Attend this webinar to know how you can achieve new level of visibility into the entire IT environment, track key performance indicators (KPIs), monitor high-level service health and perform deep-dive troubleshooting, all in one solution. Join this webinar to learn how you can:
Predict business service outage using AI capability
Derive service awareness for operational visibility and service intelligence
Use machine learning to baseline operational patterns, gain insights, detect trends and take action
Know when and where to focus your attention and investigation with contextual and actionable real-time events analytics
Move from stubborn enterprise tools to service definition with new top-down service mapping
Audience:
This webinar is intended for audiences intererested in a better understand of the Splunk platform's advanced capabilities for critical services.
OUR HOSTS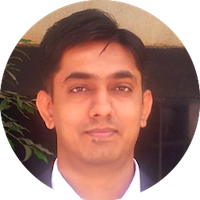 SATISH DANGE
Sales Director, SmartCirqls
Satish has 15 years of experience in Enterprise Software coupled with Business Solutions in the Telecom and IT Domain. His expertise spans across Big Data, Cloud Computing, and IT Operational Analytics, with certifications in CCNA, CCIP, Splunk Certified SE-II & Splunk Certified Architect.