Any Question. Any Data. One Splunk
A live demo of Splunk Enterprise
Webinar: Any Question. Any Data. One Splunk
11-Jul-2019
Agenda:
Introduction to Splunk
Splunk Enterprise is a fully featured, powerful platform for collecting, searching, monitoring and analyzing machine data. It turns machine data into rapid visibility, insight, and intelligence.
Ease of Use: Splunk allows you to get started in minutes. You can Search vast amounts of data from multiple data sources, set up alerts on the fly and create dashboards/reports in just a few clicks
One Platform – Multiple Use Cases:
IT Operations - Correlate across all layers for service level visibility to Resolve problems quickly to reduce downtime & improve customer or user satisfaction.
Security - Perform continuous security and compliance monitoring, and the ability to detect and respond to known, unknown and advanced threats.
Application Delivery - Analyze data across entire development lifecycle to reduce MTTR for operational or security incidents, Reduce Escalations, and Avoid Downtime.
Business Analytics - Combine structured data typically analyzed by traditional BI or Data warehouse tools with machine data to get real-time business insight
IoT - Leverage Splunk for monitor IoT.
Audience:
This webinar is intended for a technical or non-technical audience interested in Splunk Enterprise.
OUR HOSTS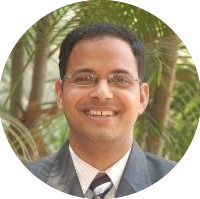 SRINIVAS PINGALA
Senior Technical Consultant, SmartCirqls
Srinivas has more than 13 years of experience in various roles spanning Solution Architecture, Presales & Software Development. He has extensive experience in consulting and positioning leading EMS solutions cutting across IT Operations, Security, Service Management & Automation.